Rhythmic Polymorphism of a Syriac Maronite Hymn or How to Climb the Way of the Cross While Dancing?
Polymorphisme rythmique d'une hymne syriaque maronite ou comment gravir le Chemin de Croix en dansant ?
This article concerns the problem of high frequency of the Syriac hymns of the Maronite office of the Holy Week, whose rhythm is doubly stratified, in the sense that it can be analyzed at the same time like a 2/1 bichron rhythm, which is attached to the syllabic irregular pulsation and which is specific to the giusto syllabic rhythm, and like a 3/2 bichron rhythm, which agglomerates the syllabic pulsations within an irregular metasyllabic pulsation and which is specific to the aksak rhythm, according to the Constantin Brăiloiu typology. The hypothesis considers this double rhythmic stratification as an actualization of the aesthetic syncretism which saint Ephrem carried out in the 4th century between the Apollonian and the Dionysian schemas, so that the giusto syllabic rhythm layer would be related to the first schema, while the aksak rhythm layer would indicate the second schema. The validation of this assumption rests on rythmico-melodic morphophonological analysis of the stanza-model which is commune to nine 11/8 measured hymns recorded by the Master of this tradition, the Antonine Father Maroun Mrad (1913-2009). This analysis proceeds of modal semiotics and makes it possible to rewrite the surface of these hymns in terms of deep structures. Thus the diachronic/phylogenic perspective of the ancient aesthetic syncretism is actualized in the synchronic/ontogenetic form of a transformation which operates in generative musical grammatical semiotics between two morphological layers. It is in the sense that these anthems of Christ passion are stressed by a dabkeh aksak country dance, which registers the enthusiasm of Christ resurrection in the Way of Cross.
Cet article est confronté à la problématique inhérente à la haute fréquence des hymnes syriaques de l'office de la Semaine Sainte maronite, dont le rythme est doublement stratifié, en ce sens qu'il peut être analysé à la fois comme procédant d'une bichronie 2/1, qui est attachée aux pulsations syllabiques et qui est propre au giusto syllabique, et d'une bichronie 3/2, qui agglomère les pulsations syllabiques au sein de pulsations métasyllabiques et qui est propre à l'aksak, selon la typologie établie par Constantin Brăiloiu. L'hypothèse avancée consiste à considérer cette double stratification rythmique comme une actualisation du syncrétisme esthétique qu'a réalisé saint Éphrem de Nisibe au IVe s. entre le schème apollinien et le schème dionysiaque, en sorte que la strate giusto syllabique serait liée au première schème, tandis que la strate aksak dénoterait la deuxième strate. La validation de cette hypothèse repose sur une analyse morphophonologique rythmico-mélodique de la strophe-modèle commune à neuf hymnes de mesure 11/8, enregistrées par le maître de cette tradition, le Père antonin Maroun Mrad (1913-2009). Cette analyse procède de la sémiotique modale et permet de réécrire la surface de ces hymnes en termes de structures sous-jacentes. Ainsi la perspective diachronique/phylogénique du syncrétisme esthétique antique se trouve-t-elle réactualisée sous la forme synchronique/ontogénique d'une transformation qui opère en sémiotique grammaticale générative musicale entre deux strates morphologiques. C'est en ce sens que ces hymnes de la passion christique sont investie d'une dynamique de danse dabkeh aksak paysanne, qui inscrit l'enthousiasme de la résurrection christique dans le Chemin de Croix.
Fichier principal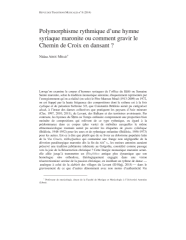 Abou Mrad Polymorphisme rythmique Revue des Traditions Musicales 8.pdf (464.63 Ko)
Télécharger le fichier
Origin : Explicit agreement for this submission