Clés musicologiques pour l'approche du legs de Mīhā'īl Maššāqa (1800-1888)
The a-š-Šihābiyya Epistle written by the Lebanese theorist Mīhā'īl Maššāqa (1800-1888) is a pioneer musicological work. It includes an in-depth outline about the melodic system of the Near East Arabic, secular, and initiatory musical tradition, as it appears at the eve of the cultural and political Arabic Renaissance movement. It also contains an important corpus of ninety five notated melodies given as an exemplification of the modes. This research suggests some musicological keys that are helpful for studying Maššāqa's legacy. After a short biographical overview, a diachronic contextualization of the systemic synthesis proposed by Maššāqa is carried out. The historiography of the complex issue of structuring the typical and the general scale matrixes of this tradition is summarized; this leads to an analysis of the exemplary melodic corpus he left, and an attempt at establishing a musical transcription of this material.
L'Épître a-š-šihābiyya du théoricien libanais Mīhā'īl Maššāqa (1800-1888) est une œuvre musicologique pionnière qui comprend un exposé approfondi du système mélodique de la tradition musicale arabe, profane et initiatique du Proche-Orient, telle qu'elle se présente au commencement du mouvement de la Renaissance culturelle et politique arabe, et un important corpus de quatre-vingt-quinze mélodies données en exemplification des modes. Ce dossier propose des clés musicologiques pour l'approche du legs de Maššāqa. Après un bref aperçu biographique, est effectuée une contextualisation diachronique de la synthèse systémique proposée par cet auteur, notamment l'historiographie de la question épineuse de la structuration des matrices scalaires type et générale de cette tradition. Cette analyse ouvre la voie à l'étude du corpus mélodique modal modèle légué et à un essai de transcription.
Fichier principal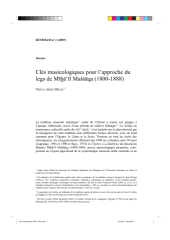 RTM 1 2007 - Abou Mrad - Massaqa.pdf (40.06 Mo)
Télécharger le fichier
Origin : Files produced by the author(s)